Did you know that there are some simple, every day foods and beverages that can help you sleep better?
Below is a list of those foods and how they could potentially help you sleep better.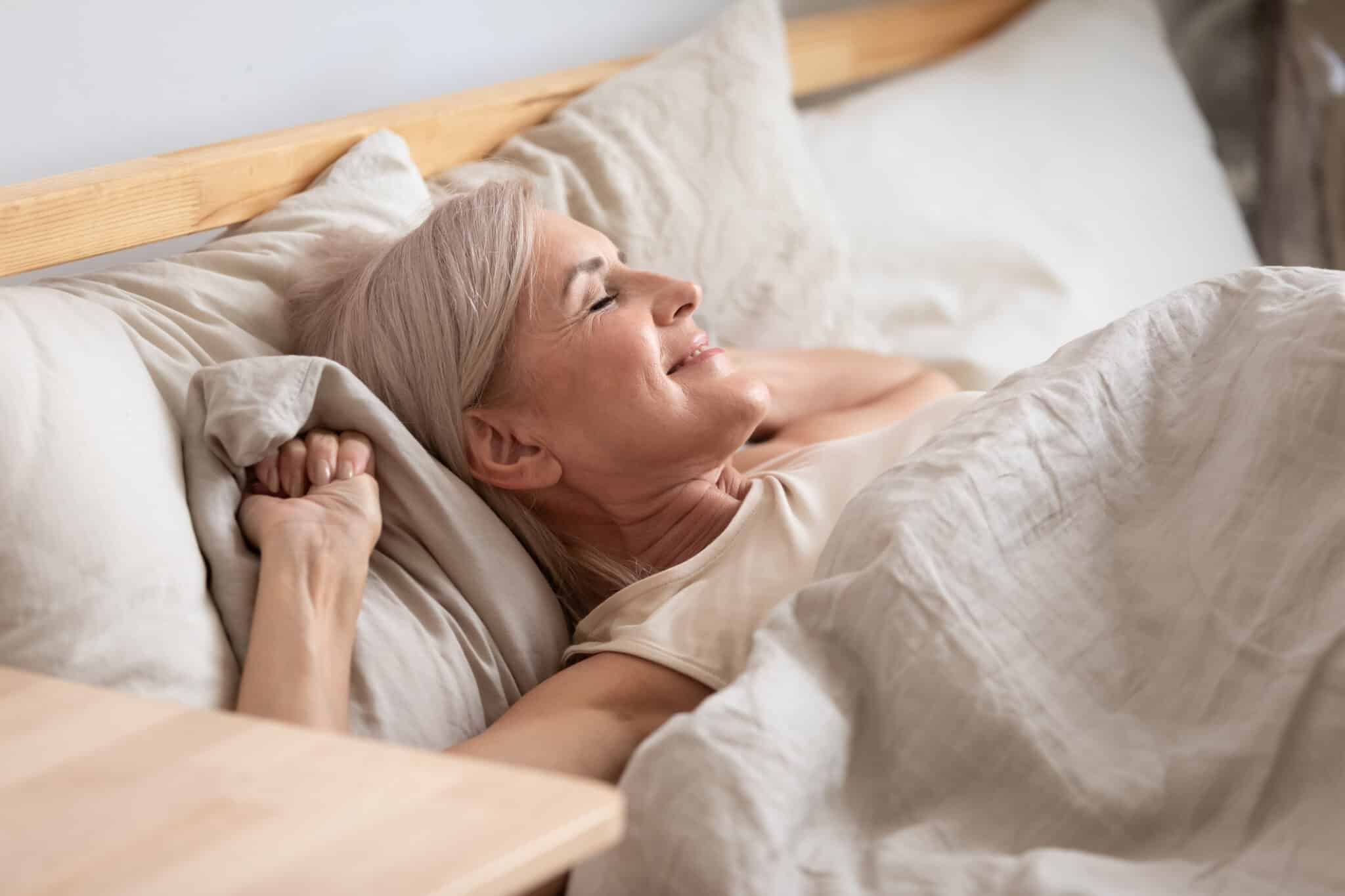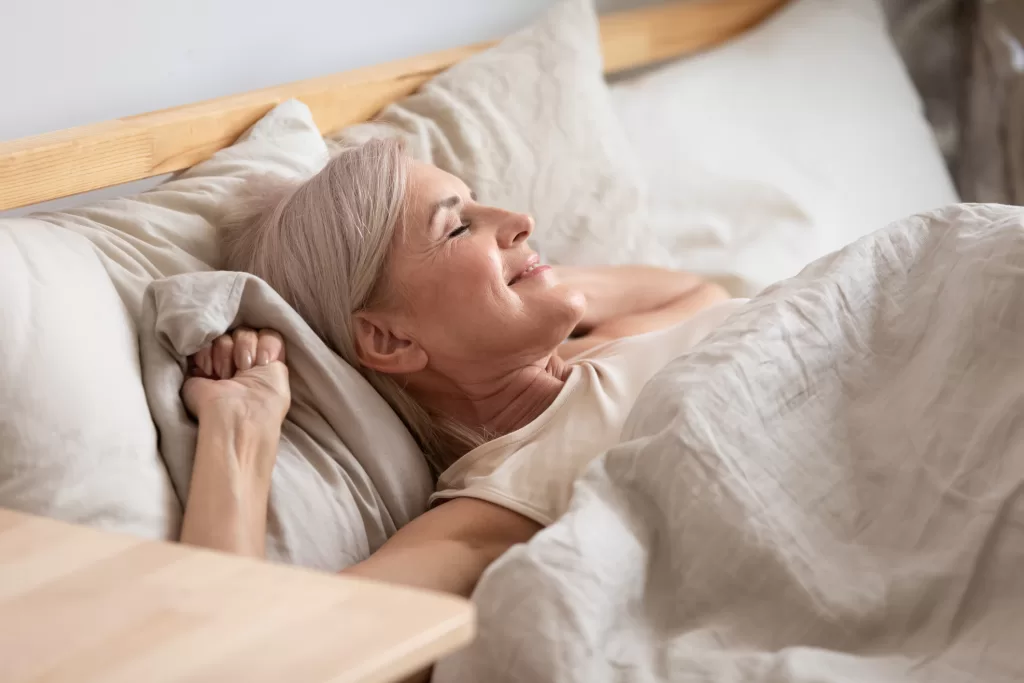 Tryptophan - Serotonin - Melatonin
In order to fall asleep we need to have enough melatonin.
Many people talk about how tryptophan and serotonin are needed for sleep. But what's actually happening is that tryptophan helps your body make serotonin and then serotonin is converted to melatonin.
So serotonin itself doesn't necessarily help you fall asleep (although in just the right amounts it can help you feel relaxed).
The other thing to keep in mind is that IF you have sufficient melatonin, adding more tryptophan, serotonin, or melatonin probably won't do much to help you fall asleep.
Also, melatonin as a supplement should only be taken short term. So, it is safer to boost your melatonin levels through food sources (although it won't be as strong as a pill).
GABA
Another major neurotransmitter involved in sleep is GABA (gamma-aminobutyric acid)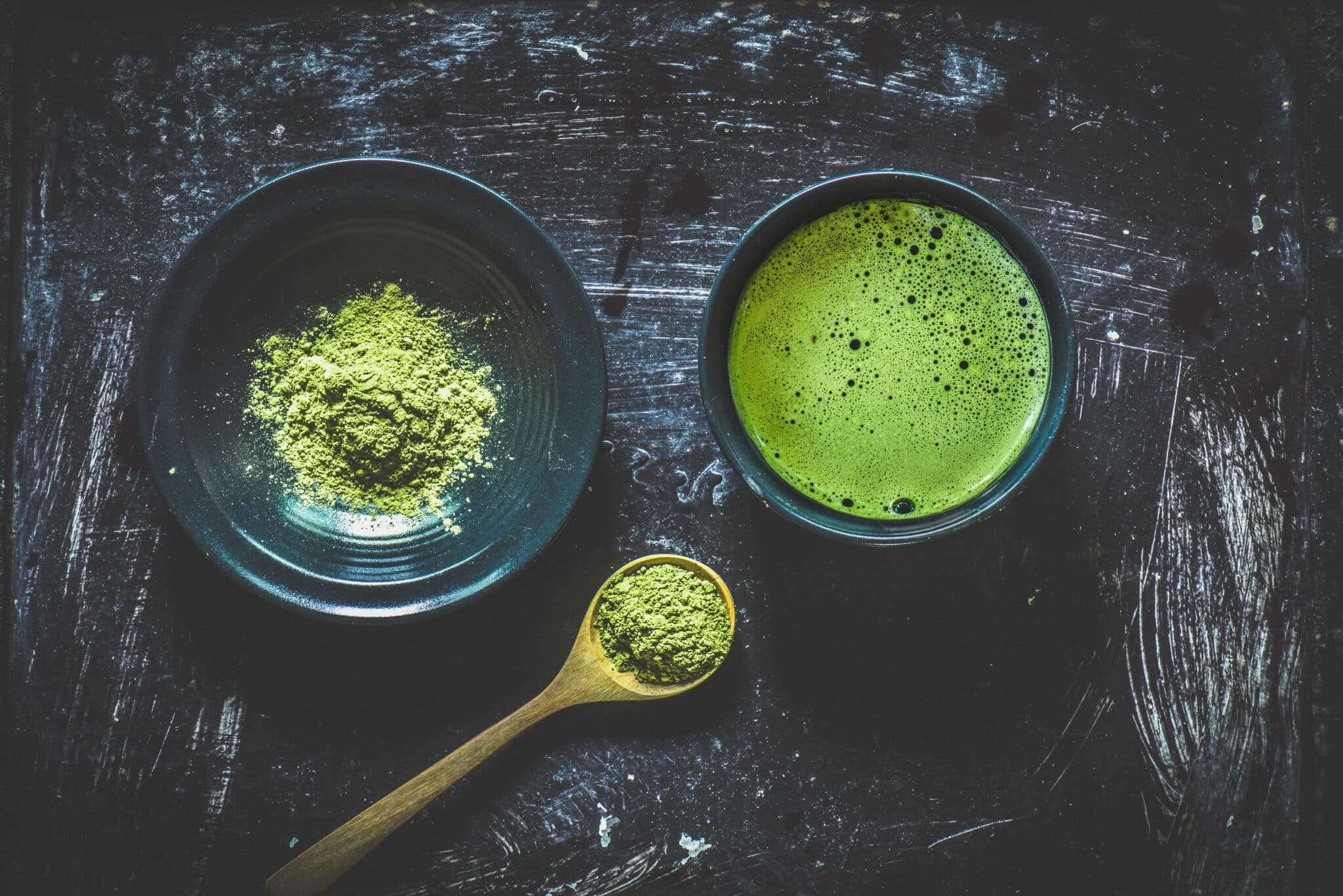 GABA is a calming molecule that not only helps us sleep but also makes us feel relaxed and peaceful.
There are a few key foods that can help promote the natural production of GABA.
Keep in mind that some foods reduce GABA. These are foods that are high in glutamic acid.
Many foods naturally contain glutamic acid in small to moderate amounts and they do little harm to most people.
But a common food additive called monosodium glutamate (MSG) can push some people over the edge and cause anxiety and/or sleep disruption.
Magnesium
Magnesium is a mineral that has a relaxing effect on the body.
Maybe people report getting better sleep when they take a magnesium supplement before bed. And there is a lot of research to support that claim.
You can also use any magnesium-rich food to see if you get a similar effect.
Carbohydrates
I know that carbs are heavily demonized these days but they can help you sleep better!
As a matter of fact, some higher glycemic index carbs (meaning more carbs and less protein, fiber, or fat), have been shown to promote good sleep!
Apigenin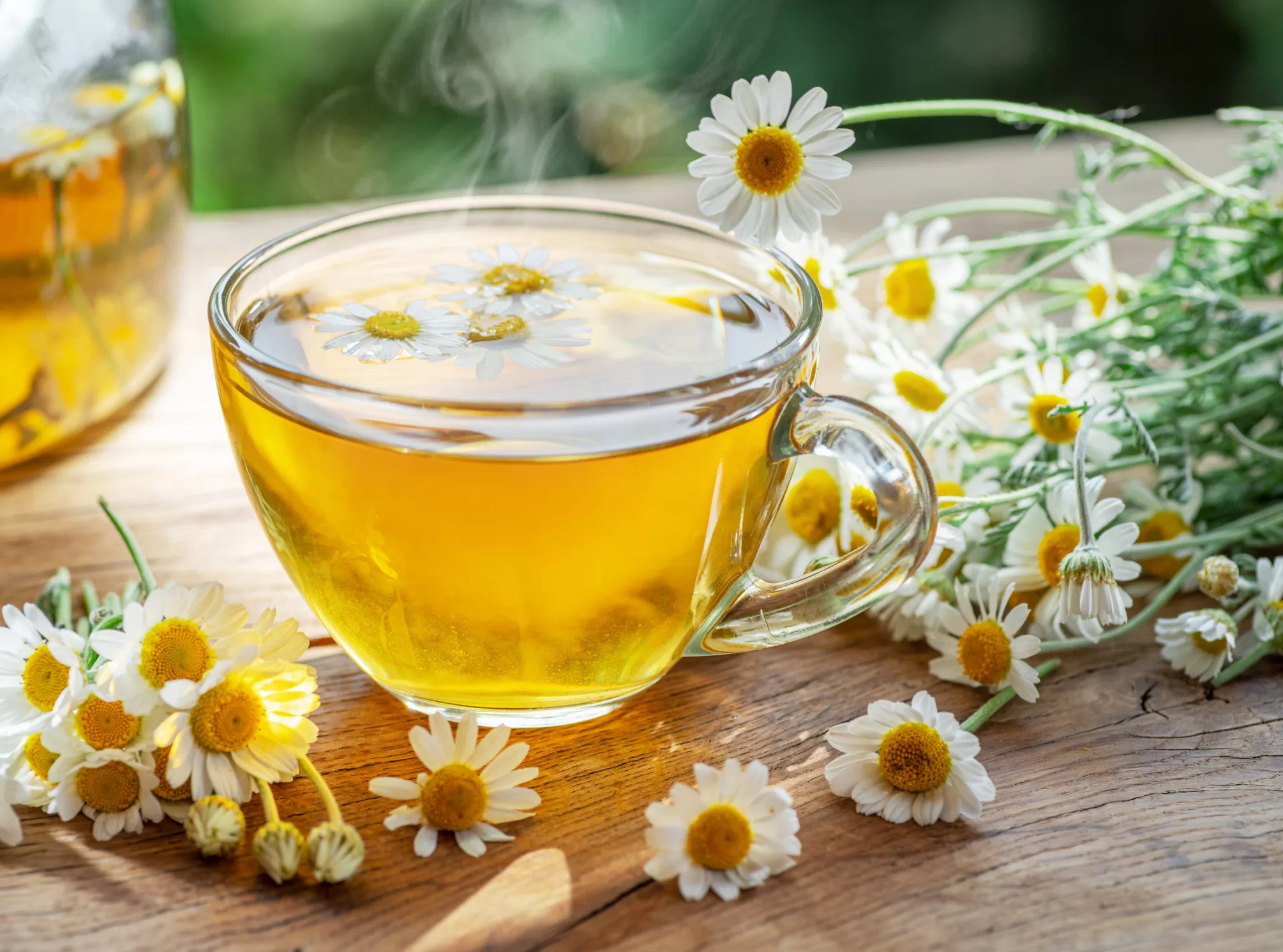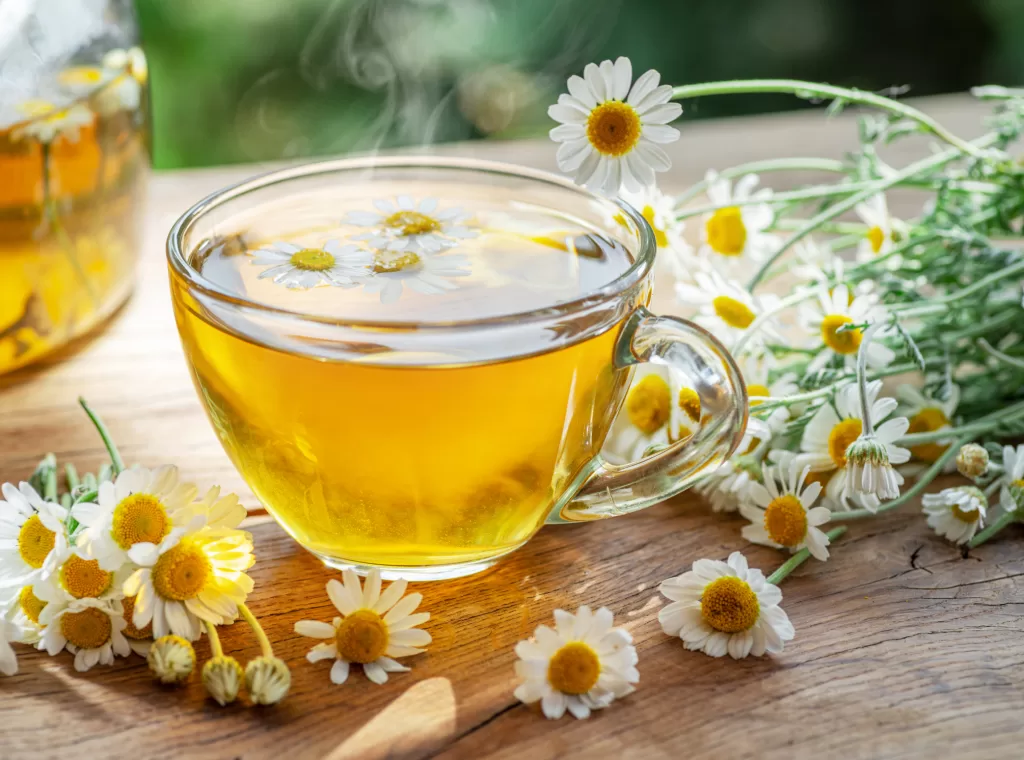 This is a polyphenol (plant nutrient) that helps promote sleepiness and may even help with insomnia.
It is abundant in chamomile tea. See the list below.
Below is a list of foods and how they can improve your sleep.
Almonds: contain melatonin and magnesium
Walnuts: contain serotonin
Kiwi: contains serotonin
Turkey, Chicken, Tahini, Cheese, Chickpeas, & Chocolate: contain tryptophan
White Rice: high glycemic index foods 1 hour before bed may promote better sleep
Oats: contain serotonin and may induce drowsiness like white rice
Chamomile Tea: contains apigenin, a polyphenol that may promote drowsiness
Passionflower and Valerian Root Tea: help the body produce GABA
Tart Cherry Juice: contains melatonin and may promote drowsiness and relieve insomnia
Fatty Fish: may enhance sleep quality and promote the production of serotonin
Magnesium-Rich foods: have a calming effect and muscle relaxation
I recommend trying out some of these simple, every day, and tasty foods to see if they improve your sleep.
Want to learn more about how to get good sleep?
Get the free recording from our lunch & learn by clicking the link below.
REFERENCES
Zeng Y, Yang J, Du J, Pu X, Yang X, Yang S, Yang T. Strategies of Functional Foods Promote Sleep in Human Being. Curr Signal Transduct Ther. 2014 Dec;9(3):148-155. doi: 10.2174/1574362410666150205165504. PMID: 26005400; PMCID: PMC4440346.
Salehi B, Venditti A, Sharifi-Rad M, Kręgiel D, Sharifi-Rad J, Durazzo A, Lucarini M, Santini A, Souto EB, Novellino E, Antolak H, Azzini E, Setzer WN, Martins N. The Therapeutic Potential of Apigenin. Int J Mol Sci. 2019 Mar 15;20(6):1305. doi: 10.3390/ijms20061305. PMID: 30875872; PMCID: PMC6472148.
Srivastava JK, Shankar E, Gupta S. Chamomile: A herbal medicine of the past with bright future. Mol Med Rep. 2010 Nov 1;3(6):895-901. doi: 10.3892/mmr.2010.377. PMID: 21132119; PMCID: PMC2995283.
Lin HH, Tsai PS, Fang SC, Liu JF. Effect of kiwifruit consumption on sleep quality in adults with sleep problems. Asia Pac J Clin Nutr. 2011;20(2):169-74. PMID: 21669584.
Halson SL. Sleep in elite athletes and nutritional interventions to enhance sleep. Sports Med. 2014 May;44 Suppl 1(Suppl 1):S13-23. doi: 10.1007/s40279-014-0147-0. PMID: 24791913; PMCID: PMC4008810.
Losso JN, Finley JW, Karki N, Liu AG, Prudente A, Tipton R, Yu Y, Greenway FL. Pilot Study of the Tart Cherry Juice for the Treatment of Insomnia and Investigation of Mechanisms. Am J Ther. 2018 Mar/Apr;25(2):e194-e201. doi: 10.1097/MJT.0000000000000584. PMID: 28901958; PMCID:
St-Onge MP, Mikic A, Pietrolungo CE. Effects of Diet on Sleep Quality. Adv Nutr. 2016 Sep 15;7(5):938-49. doi: 10.3945/an.116.012336. PMID: 27633109; PMCID: PMC5015038.PMC5617749.
Peuhkuri K, Sihvola N, Korpela R. Dietary factors and fluctuating levels of melatonin. Food Nutr Res. 2012;56. doi: 10.3402/fnr.v56i0.17252. Epub 2012 Jul 20. PMID: 22826693; PMCID: PMC3402070.
Houtepen LC, Schür RR, Wijnen JP, Boer VO, Boks MP, Kahn RS, Joëls M, Klomp DW, Vinkers CH. Acute stress effects on GABA and glutamate levels in the prefrontal cortex: A 7T 1H magnetic resonance spectroscopy study. Neuroimage Clin. 2017 Jan 4;14:195-200. doi: 10.1016/j.nicl.2017.01.001. PMID: 28180078; PMCID: PMC5280001.
Ngan A, Conduit R. A double-blind, placebo-controlled investigation of the effects of Passiflora incarnata (passionflower) herbal tea on subjective sleep quality. Phytother Res. 2011 Aug;25(8):1153-9. doi: 10.1002/ptr.3400. Epub 2011 Feb 3. PMID: 21294203.
Abbasi B, Kimiagar M, Sadeghniiat K, Shirazi MM, Hedayati M, Rashidkhani B. The effect of magnesium supplementation on primary insomnia in elderly: A double-blind placebo-controlled clinical trial. J Res Med Sci. 2012 Dec;17(12):1161-9. PMID: 23853635; PMCID: PMC3703169.