Here are some more yummy recipes for the Keto Detox Challenge.
Remember that when doing Keto it's best to keep things really, really simple. Use spices and herbs as much as possible to keep the flavor up and the carbs down!
Strawberry Matcha Keto Pudding (serves 4)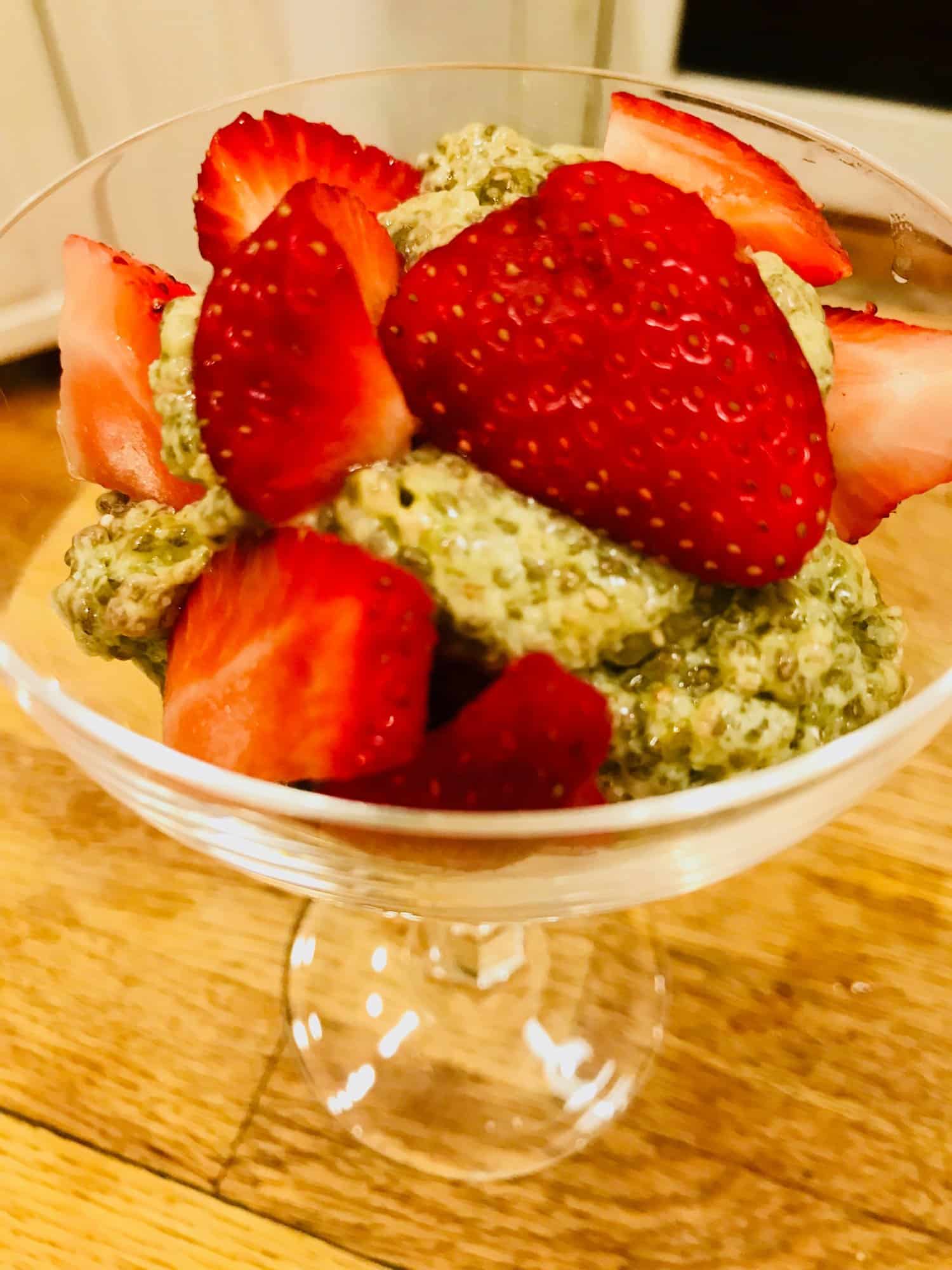 Ingredients
1/2 cup water
1/2 cup coconut milk fat
1 TBSP Oillee brand Blend Oil

or MCT Oil (Brain Octane is preferred)

1/4 TSP vanilla extract
1/4 TSP almond extract
1/4 TSP Lakanto powder

(non-absorbable sweetener from monk fruit extract) or stevia

dash of sea salt
2 TBSP chia seeds
1 cup strawberries, thinly sliced
Mix all ingredients except strawberries together in a jar. Shake jar vigorously. Cover and let it sit in the fridge for at least 4 hours. Enjoy with 1/4 cup sliced strawberries per serving.
Chicken Vegetable "Noodle" Soup (serves 4)
Ingredients
1 whole chicken or 8 chicken thighs
1 TSP kosher sea salt
1/8 TSP black pepper
8 TBSP extra virgin olive oil
1 yellow onion, diced
4 cloves garlic, minced
2 TSP kosher sea salt
1/2 TSP freshly ground black pepper
2 TSP fresh or dried thyme
1 bay leaf
2 TSP onion powder
1/2 TSP cayenne pepper
1 cup whole peeled tomatoes
1/2 cup carrots, sliced thinly
1 cup celery, sliced thinly
1/2 head of broccoli florets, chopped into small florets
4 cups bone broth
1 bag of Sea Tangle kelp noodles (optional and these do not contain any carbs, fat, or protein)
Preheat oven to 300 degrees F (if you are short on time increase heat to 350). Place chicken in oven-safe pot, rub with sea salt and black pepper. Cover with olive oil, cover the pot and bake for 1-1.5 hours.
Meanwhile, heat olive oil in a large saucepan. Add onions, garlic and spices and cook, stirring on medium-high heat for about 4-5 minutes. Reduce heat to medium-low, cover pot, and cook onions for another 5 minutes or so. Then add tomatoes, carrots, celery and broccoli and cook on medium-high heat for another 5 minutes, stirring occasionally.
Add bone broth and kelp noodles, cover, and allow soup to come to a light boil. Turn down heat and cook for another 5 minutes or so, until veggies are soft but not overcooked (should still have a little crunch).
When chicken is cooked remove from heat and let cool. When sufficiently cooled remove all meat from the bones and when veggies are cooked and noodles are soft, add the chicken meat to the soup. Adjust salt, pepper, and other spices to taste.
Fresh Wild-Caught Salmon (4 servings)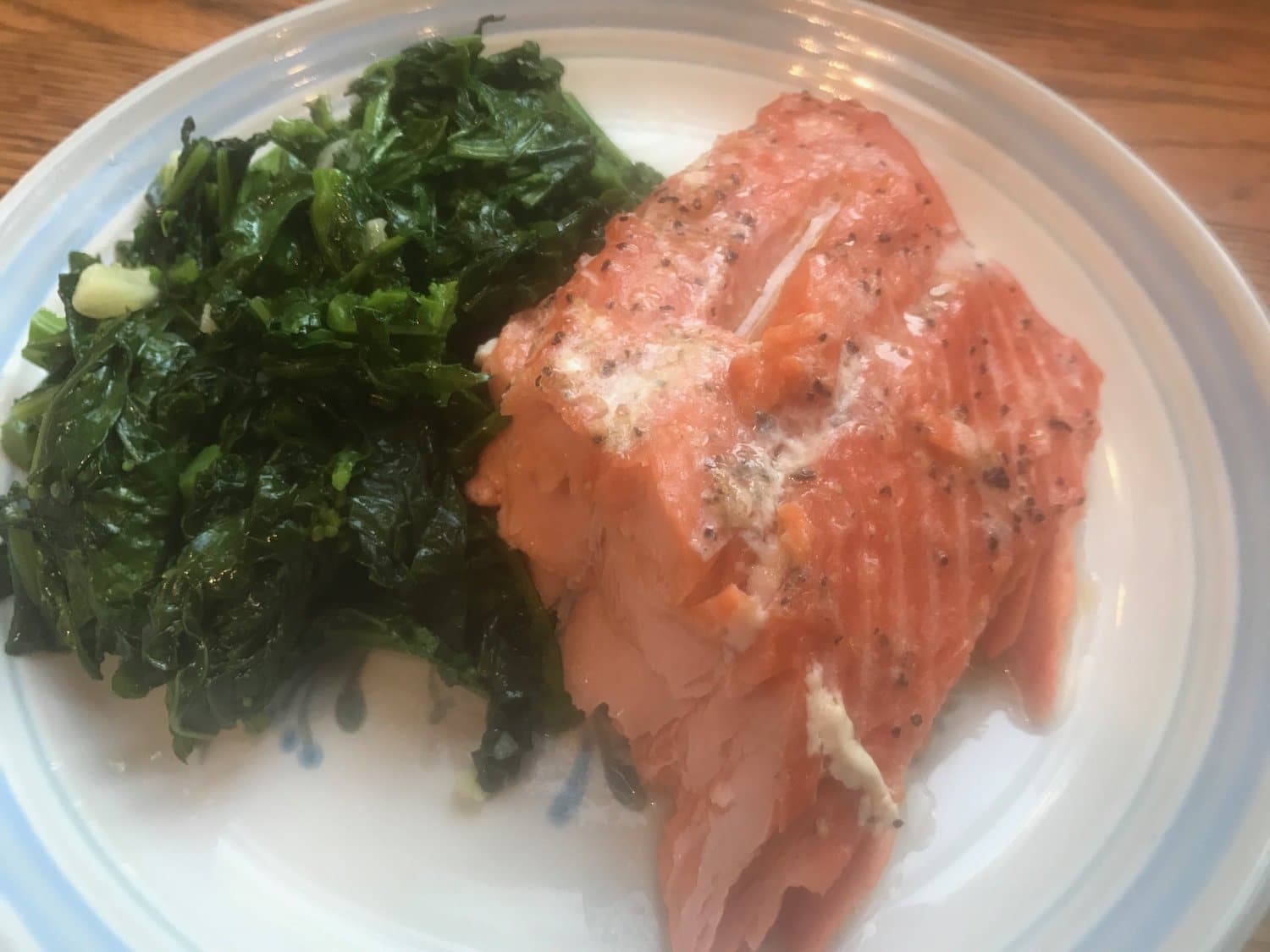 Ingredients
1 lb wild-caught salmon
Sea salt and freshly ground black pepper
Preheat oven to 350 degrees. Rub salmon liberally with sea salt and black pepper to taste. Bake salmon for about 15 minutes, depending on the thickness of the salmon. Do not overcook. If salmon has varying thicknesses, cut it into pieces based on thickness and pull out thinner pieces sooner. Fresh wild-caught salmon is so delicious this dish can be absolutely wonderful.
Green Goddess Salad Dressing (2 servings)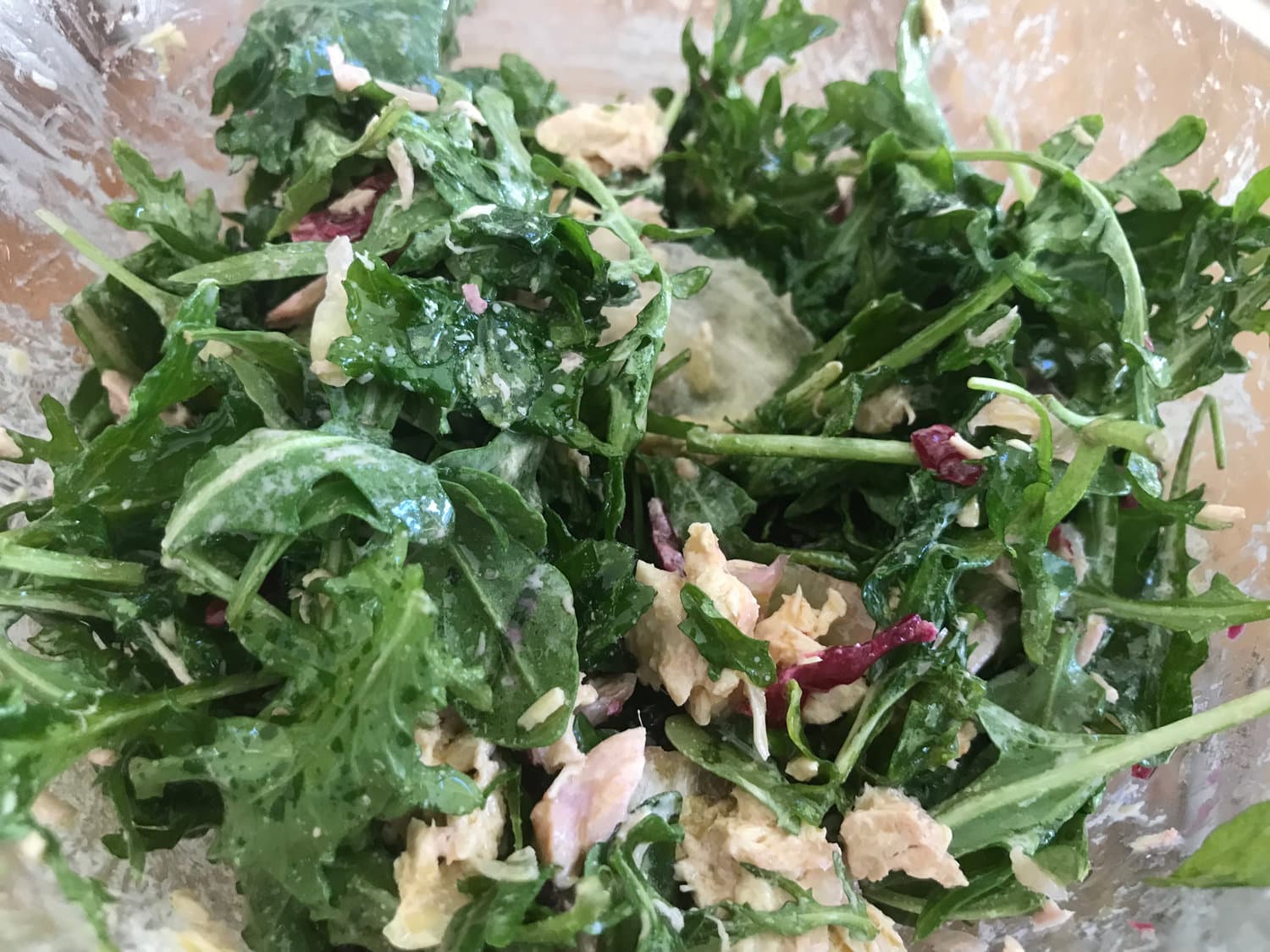 Ingredients
2 TBSP Chosen Foods Avocado Oil Mayonnaise
6 TBSP Extra Virgin Olive Oil
1 Garlic Clove, minced
1 TSP Fresh Lemon Juice
Sea Salt and Freshly ground Black Pepper to Taste
Stir mayo and olive oil together until well combined. Add minced garlic, lemon juice, sea salt, and fresh pepper and stir together.
Increase batch size for other days. Store in a jar in the fridge and use as needed. This dressing goes on pretty much any salad!!
Pesto Sole (6-8 servings)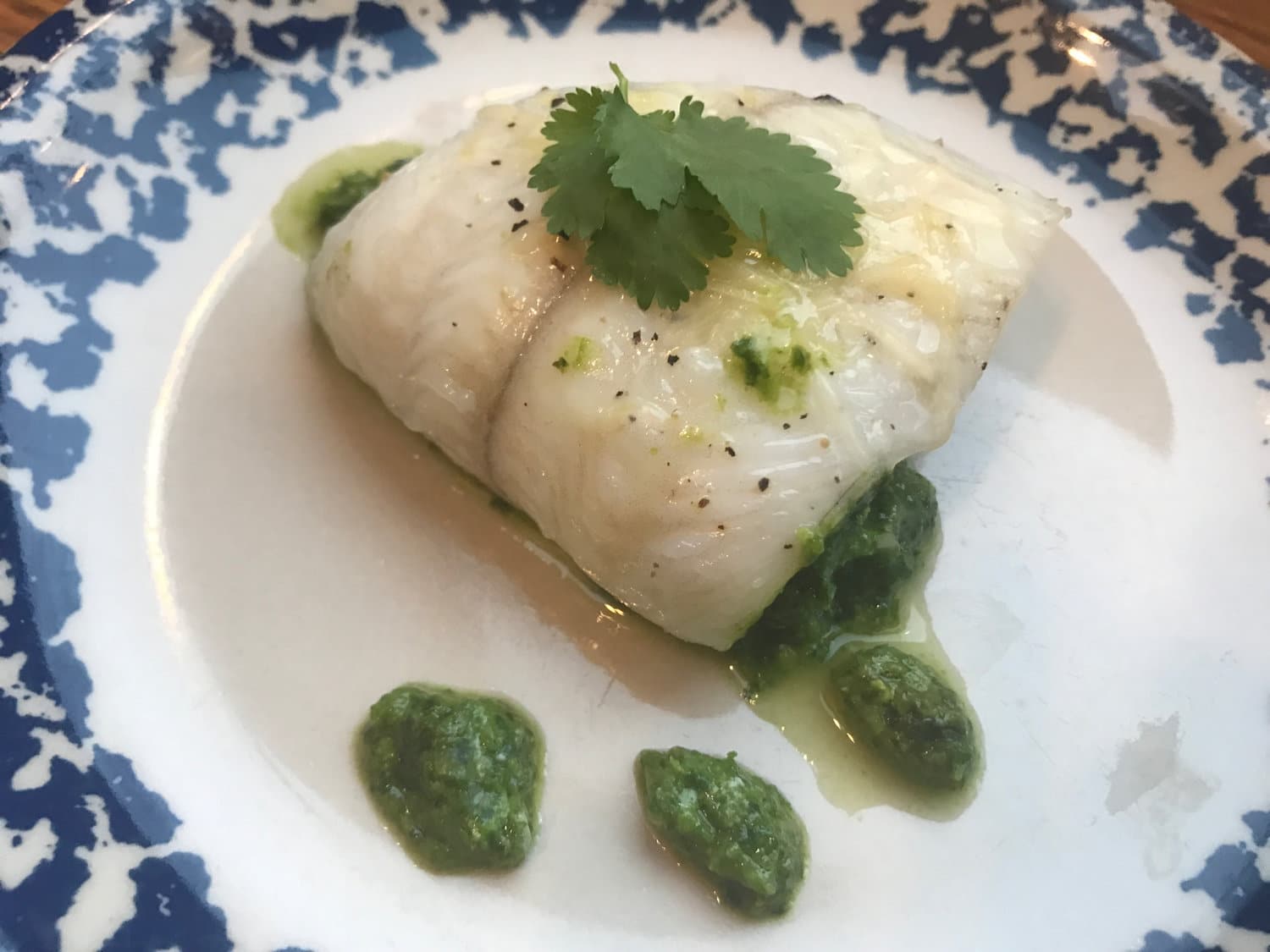 Ingredients
1 LB grey sole
1/2 TSP kosher sea salt and dash of freshly ground black pepper
1/2 cup pesto (homemade recipe below or store-bought)
1/2 cup parmesan cheese (optional) or use hemp seeds and some olive oil for dairy-free
1/2 cup pine nuts
Preheat oven to 350 degrees F. Season fish with salt and pepper. Lay out sole and put about 1 TBSP of pesto in the middle of the fish. Fold fish so pesto is sandwiched inside. Turn the part where the edges meet down. Sprinkle hemp seeds on the top of the fish and drizzle with olive oil or sprinkle parmesan cheese to top of the fish.
Bake for 8-12 minutes. Do not overcook fish. It is done when the fish easily flakes or breaks. Meanwhile, toast pine nuts by putting in a small cast iron frying pan and heating over medium heat, shaking the pan every 30 seconds or so. Watch them carefully so they don't burn. Pine nuts are toasted when they are browned. Remove fish from oven and sprinkle with pine nuts.
Homemade Pesto (6-8 servings)
Ingredients
2 cups fresh basil
1 large garlic clove
1/3 cup pine nuts
1/2 cup parmesan cheese (or use hemp seeds for dairy-free)
1 TSP kosher sea salt
1 TBSP fresh lemon juice
1/2 cup extra virgin olive oil
Mix together all ingredients except oil in a food processor until well blended in a mealy texture. With food processor running, slowly pour the oil into the mixture. When the oil is fully blended check the texture and taste, adding more salt or oil as desired.