I've been hearing from a lot of people that they have been overeating like crazy lately.
People tell me that they are eating out of boredom or they are stress-eating.
Some people are overeating because of both!
Being stuck at home, worrying about our own health and the health of everyone around us can be extremely trying.
And many of us are at home feeling distracted and unable to get things done so we end up doing nothing and maybe even getting bored.
Then when you throw restless children in the mix, oh boy!
How can we maintain some semblance of normalcy in our diets?
And to take it a step further, how can we optimize our diets so we can boost our immune health?
The whole situation can be overwhelming and may cause us to give up!
But there is a way around this.
Here are 5 mindset steps to overcome overeating out of stress, fear, and/or boredom.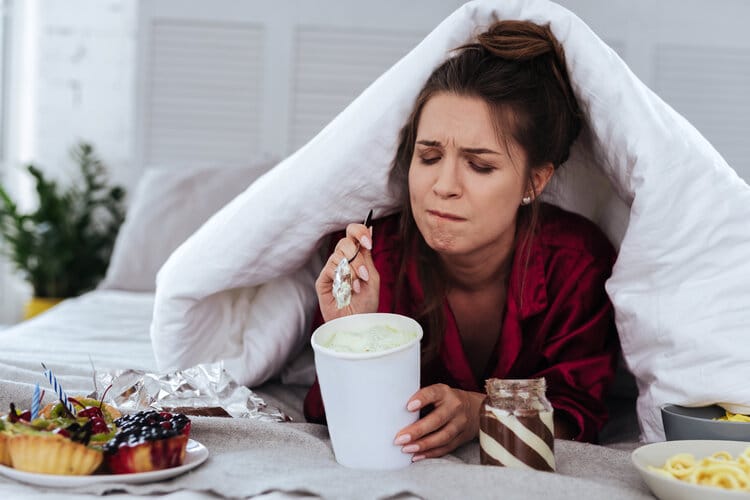 1. Remind yourself that this will not last forever.
It seems like it is end-of-days lately but it is not. Life will go on. Will it be different? Most likely. Will there be long-term consequences? Probably. But the world will keep on spinning, just like it did after 9/11. This is not an excuse to minimize what is going on but it is a reality check. When this is done, we will have to go about our lives.
2. Remind yourself about your priorities.
Where do you want to be health-wise right now and as things calm down? Worse or better? I think most of us are intensely interested in boosting our health right now, not making it worse. Check in on "why" you want to be healthy and remind yourself of that EVERY TIME you find yourself mindlessly eating or overeating.
3. Take advantage of the extra time.
This is actually a great opportunity to do more cooking! Yes, it's hard finding groceries right now but I have been able to find everything I need. Grocery stores are delivering and I've ordered from some of my favorite online sources such as Vital Choice (great seafood and fish) and US Wellness Meats (grass-fed beef, pasture-raised poultry, pantry items, and more). I have been sending out 7 days of immunity-boosting recipes, if you want to get those click below.
4.Try some new things.
It may be time to start a new garden or take up knitting. Maybe do some online workouts? Or go hiking every day. Download audiobooks or podcasts and listen to them while you clean out that closet you've been avoiding. Start learning a new language (we WILL be allowed to travel again). Take an online course. The possibilities are really endless because there are so many things we can do online. And this is also a great way to support small businesses, which are the backbone of our economy. My daughter is starting to build an aquarium.
5. Monitor your thoughts.
Believe me, I am right there with you that this whole thing is scary on multiple levels. I myself have had several episodes of feeling panic. But I am extremely dedicated to living my life in an intentional manner. So every time I feel fearful, nervous, panicky, or overwhelmed I stop what I am doing and I take the time to calm myself down. I have many strategies for this. The first step is to always be aware of how you are feeling. I wrote a whole blog post about this so I recommend you read that for a step-by-step process on how to overcome fear.
I know this is a super scary time so I am here to help.
If you need any extra resources or you have any specific questions please feel free to comment below.
I am asking that you comment below or ask questions on social media so that others may benefit from your question as well.